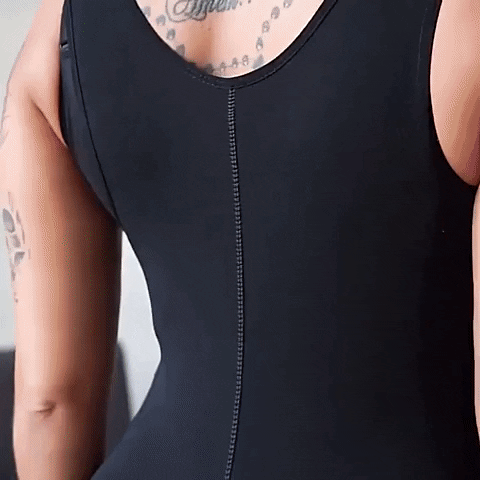 EMPOWER YOUR BODY
Hey ladies, have you ever thought of bringing back your glamourous body shape and rediscovering your inner beauty and body? The ultimate solution is here, introducing the "3 IN 1 SHAPEWEAR" that is designed to give you a smoother curve that suits all your dress and clothes.

3 IN 1 SHAPEWEAR
You heard it right! This 3-in-1 shapewear is high waisted designed to provide high compression on the midsection to give a smooth lower belly, reduce extra waistline and give no lumps and bulges. A body shaper that targets the tummy, buff lifting and thigh slimming.
MOST COMFORTABLE SHAPEWEAR
We offer the most breathable and comfortable shapewear in town that is made of high elasticity, adjustable hook design and is not easy to deform. A better wrap-around hips so it's easy to get in shape and elegant lace to create a charming figure.
Not Satisfied? Not a problem! We are proud to offer a risk free 30 day money back guarantee to all of our customers!
To be eligible for a refund, just follow our protocol on our 'Refund Policy' page for a full refund without any hassle.
How long will it take for my order to reach me? 
Once payment is cleared, orders generally take between 2-4 business days to process. After your order is processed, it can take 7-15 days to arrive.
Do you charge for shipping? Are there any additional fees?
No and no! The price you see is the price you pay. We never charge for shipping anywhere in the world. 
I don't have a tracking number. How do I track my order?
After your order is processed and dispatched, we will send you an email with the tracking number provided so you can keep track of the delivery. You can track your parcel here after putting in your tracking number.
In the unlikely event that you didn't receive the tracking number, don't worry. It happens and we have you covered. Send us an email at support@urbansoulz.com with your order # included and we will get back to you as soon as possible with your tracking information. 
Can I change or cancel my order? 
As long as you contact us within 12 hours of placing your order, we can change or cancel your order at no extra cost. Please note that once your order is shipped, we are unable to change or cancel the order without a fee.
Where do you ship from?
Orders are shipped from our world-class suppliers to your nearest fulfillment center (eg. USPS), which will then be delivered to your door or your local post office.
How does Urban Soulz find so many unique products?
Our team is researching every day to find the most undiscovered items in the market! Furthermore, our team has direct contact with many of the manufacturers of these products, meaning we can bring it to our customers before typical brick and mortar stores!
How is the product quality?
Products are made from the highest of quality as we have a partnership with world-class manufacturers. We stand by our product quality that in the unlikely case you come across a faulty product, we are more than happy to replace your product, free of charge.
How do I contact you?
You can contact us on our Contact Us page or by sending us an email at support@urbansoulz.com. Our customer support team will get back to you within 24 hours.
Is my information safe?
We take our customers' information and security with utmost privacy therefore we would never share your information. No one is able to see your payment information, including us as it is protected by your payment processors through AES-256 encryption. For more information, visit our Privacy Policy page.